Purchase a 2019 Wall Calendar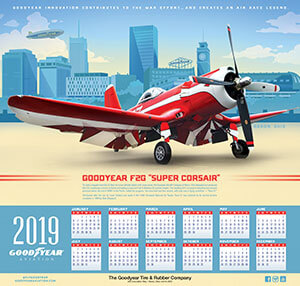 GOODYEAR F2G "SUPER CORSAIR"
To meet a request from the US Navy for a low-altitude fighter with more power, the Goodyear Aircraft Company of Akron, Ohio designed and produced the F2G, modifying a Corsair airframe and adding a massive Pratt & Whitney 28-cylinder engine. The resulting 50% increase in takeoff power showed promise before the end of WWII in the Pacific halted the program. Ten were built and two remain, with only one in flying condition — "Race 57." Purchased after the war by Cook Cleland and raced in the 1949 Cleveland National Air Races, Race 57 was restored to its current pristine condition in 1999 by Bob Odegaard.
Wall Calendar Archives
---