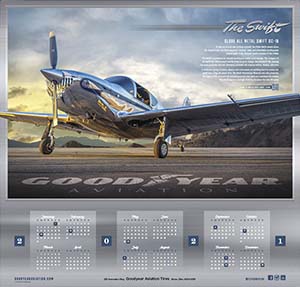 THE SWIFT
In the era of post-war civilian aircraft, the Globe Swift stands alone. Its elegant lines, Art Deco-inspired "smiling" cowl, and retractable landing gear helped make it the ultimate sporty airplane of the 1950's.
The Swift's reputation for smooth handling is rooted in its lineage. The designer of the Swift GC-1B borrowed heavily from his prior design, the Curtiss P-40, sharing the same planform and tail. Goodyear provided the original wheels, brakes, and tires.
Purchase a 2021 Wall Calendar
Calendar size: 25" high x 26.25" wide. Calendars are shipped first class in mailing tubes. To request a 2021 calendar, please click the button below. Please allow 2 weeks for shipping.
Calendar Request
Wall Calendar Archives
---