Purchase a 2017 Wall Calendar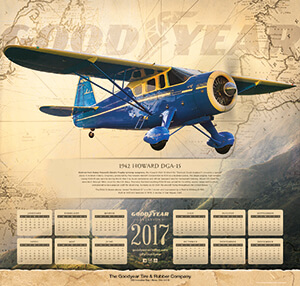 Derived from Benny Howard's Bendix Trophy-winning raceplane, the Howard DGA-15 (short for "Damned Good Airplane") occupies a special place in aviation history. Originally produced by the Howard Aircraft Corporation in 1939 as a business plane, the single-engine, high-winged, roomy DGA-15 saw service during World War II as an air ambulance and officer transport and for instrument training. About 520 DGA-15s were built through 1944, most for the U.S. Navy. Post-war, the hard-working DGA-15 was prized for its utility, speed, range and comfort, and proved to be a popular craft for skydiving. As many as 50 DGA-15s are still flying throughout the United States. The DGA-15 shown above, named "Archibald B," is a GH-1 model and is powered by a Pratt & Whitney R-985. Built in 1942 and restored in 1974, it resides in San Miguel, Calif.
Calendar size: 25" high x 26.25" wide.
Calendar cost is only $5.00 plus shipping charges. Calendars are shipped first class in mailing tubes.
To place your order, please call Imagine Print Solutions at 1-866-263-3316 for complete details.
Allow 2 weeks for delivery.
Wall Calendar Archives
---